Business Essentials for Health Care Professionals Certificate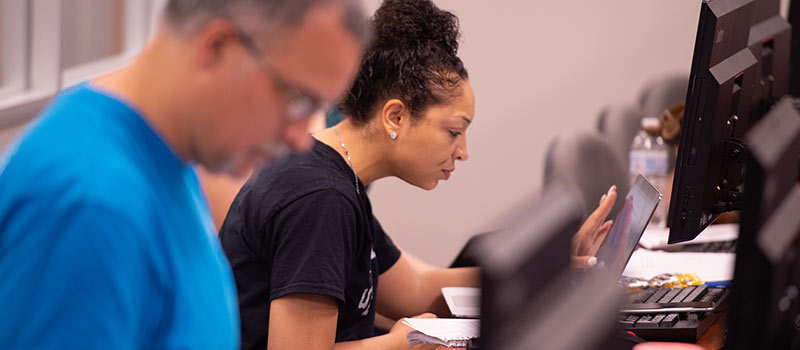 Get started on your Journey
Online Certificate Program
The Business Essentials for Health Care Professionals (BEHP) online certificate program offered by Our Lady of the Lake University's School of Business and Leadership aims to prepare health care professionals for future executive positions by helping them master the essentials of health care administration. The program prepares ethical, knowledgeable, critically thinking and collaborative servant-leaders who can use their industry acumen to solve complex problems in health care institutions.
This certificate is for non-degree seeking students.
We have SCHOLARSHIP opportunities available to assist you. Inquire today!
Program Outcomes
Students who earn the BEHP certificate will be able to:
Identify optimal solutions in negotiations and develop the skills as a successful negotiator
Communicate effectively using various professional communication methods in a business setting
Read and interpret basic data reports
Analyze health care data to get meaningful descriptive, predictive and prescriptive insights
Practice servant leadership as a management style
Describe and discuss ethical issues related to managerial decision making in health care institutions
Analyze the market environment in which health care organizations operate
Critically think about health care policy designs, and analyze health policies' effects on health care institutions
Evaluate the U.S. health care system and compare it to alternative health care systems in the world
Why the Business Essentials for Health Care Professionals Certificate?
As growth of the health care industry continues at a faster rate than the overall U.S. economy, greater public attention has been focused on the health care industry. Recent policy changes under the Affordable Care Act (ACA) have put additional pressure on health care institutions and pushed them to more efficiently use their resources. At a time of intense discussion on health policy, health care professionals who wish to become health care executives need essential managerial skills relevant to their profession. This certificate program focuses on those skills.
Degree Plan and Course Descriptions
The Business Essentials for Health Care Professionals certificate program consists of five online courses. Students will take two courses during the fall, two courses during the spring and one course during the summer using the following sequence:
Fall Semester
This course analyzes economic dimensions of the U.S. health care system. It is designed for students who already understand basic economic theory. The course explores the supply and demand sides of the health care market and emphasizes problems associated with asymmetric information in health care market settings. The course explains how the current U.S. health care system deals with these problems and compares it to alternative health care systems in the world.
This course focuses on applying available data to analyze the current standing of the health care facility and creating an operations management plan based on the outcomes of the data analysis. Students will plan the future resource requirements based on the demand forecasts in various departments; analyze the financial data to recognize the most crucial resources of the health care facility; and develop an schedule to use available resources in the most efficient way.
Spring Semester
This course covers practices in health care organization management based on "servant leadership." Cultural, operational, financial and clinical issues in management of health care institutions are discussed around successful practices of high performing organizations in the U.S. The course emphasizes important leadership skills that are experienced to be effective in the field and aims to give a detailed understanding of health care delivery organizations' structure.
This course teaches the applications of communication to users of data and statistical information. Topics and activities covered in the course include illustrating guidelines of statistical communications with different audiences, organizational communication, communication theory, and practice and formal presentations. The course emphasizes persuasive communication strategies and applied negotiation techniques with data and statistics. This course contains a strong written communication component and oral presentations and a case-based methodology to instruction and learning.

Summer Semester
This course analyzes the political, social and economic dimensions of U.S. health care policy and its implications for current and future health care organizations across the spectrum of care. IT covers trends in the health care markets and issues related to health care delivery in the U.S.;, access to care, cost control, quality of care, medical ethics, and changing trends in the U.S. health care market in the aftermath of the Affordable Care Act. Also, explores alternative contemporary health care systems and their implications for health care markets.
Earn Credit Toward Your MBA-Health Care
The Business Essentials for Health Care Professionals certificate can stand alone to demonstrate expertise in business skills. Additionally, the earned credits can be added toward the completion of the Master of Business Administration (MBA) degree at OLLU. Students have up to one year after they have completed their last certificate course to transfer credits into a related graduate program.
Admission Requirements