Marriage and Family Therapy (MFT)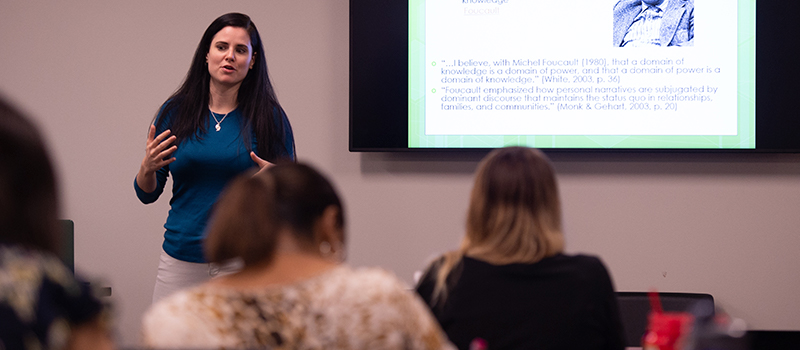 Get started on your Journey
Our Lady of the Lake University's campus in Houston offers a Master of Science (MS) in Psychology with a specialization in Marriage and Family Therapy (MFT) that prepares practitioners to assist with mental health concerns in family and social contexts utilizing strengths-based approaches to psychotherapy. In coursework and practice, students learn in accordance with professional ethical standards with clients from a wide variety of ethnic, economic, educational and religious backgrounds and develop proficiency in providing psychotherapy services to individuals, couples, families and groups.
Faculty focus on designing classroom experiences that are relevant to the practice of systemic psychotherapy. Students are required to apply their knowledge in several courses that have a practical component. Thus, many courses go beyond awareness and knowledge and focus on skill development.
Most courses in the MFT program are offered on alternating Saturdays. The 60-credit hour program is designed to be completed in three years.
Licensure
The program meets the academic requirements for licensure as a Marriage and Family Therapist (LMFT) through the Texas State Board of Examiners of Marriage and Family Therapists, and licensure as a Professional Counselor (LPC) through the Texas State Board of Examiners of Professional Counselors.
Degree Plan and Course Descriptions
Learning PODS
Students at the Houston campus are required to meet weekly in assigned small groups (PODS), which are scheduled outside of class time.
Accreditation
Approach and Orientation of the Program
Students in the MS program are taught a wide variety of theories and professional skills. However, the program emphasizes a particular set of therapy models. These models are described in various ways, such as: Relational Strengths-Based, Postmodern, Collaborative, Social Constructionist, and Competency-Based. While there are variations among these collaborative models, all of them have in common:
an emphasis on each person's strengths, resources and unique perspectives
an emphasis on a non-pathological view with skepticism regarding the usefulness of psychiatric diagnoses
These Collaborative, Social Constructionist, and Competency-Based models include:
Collaborative Language Systems
Solution-Focused Therapy
Narrative Therapy
MRI Strategic Family Therapy
These theoretical models are taught in our Systemic Approaches to Counseling Courses, and strongly influence the perspective of many of our other courses.
In addition to these emphasized theories, students are provided a working knowledge of several other common and classical models of therapy (e.g., Cognitive-Behavioral, Interpersonal, Psychodynamic, Structural) and are taught necessary diagnostic skills to allow them to function as independent therapists.
MS Psychology Program Handbook
Graduate Achievement Data
From the American Association for Marriage and Family Therapy website
The Commission on Accreditation for Marriage and Family Therapy Education is recognized by the Council for Higher Education Accreditation (CHEA). Consistent with CHEA Recognition Standards, accreditation organizations must establish standards that require accredited programs "to provide consistent information about academic quality and student achievement and thus to foster continuing public awareness, confidence, and investment." COAMFTE has established Accreditation Standards that require programs to report on student achievement. Additionally, COAMFTE collects student achievement data on graduation rates, exam pass rates, and licensure rates. Accredited programs are required to report student achievement data on an annual basis.
Accredited programs report graduate achievement criteria data for each cohort in the program. A cohort is defined as the students who entered a program between a given time period (example: the students in the fall 2015-spring 2016 cohort, entered their respective programs between the fall of 2015 and spring of 2016).
Notes about the program at Our Lady of the Lake University-Houston campus:
We are a cohort model program. Students enter the program and follow the degree plan as a group. Therefore, there is no way to finish the program in less than the three years that is the advertised length of the program (therefore, the minimum time to completion and the advertised time to completion are the same). In addition, depending on the year and semester, our students take between six and nine hours per semester. Therefore, all are considered part time students, though six hours is sufficient to be eligible for financial aid.
2023 Graduate Achievement Data